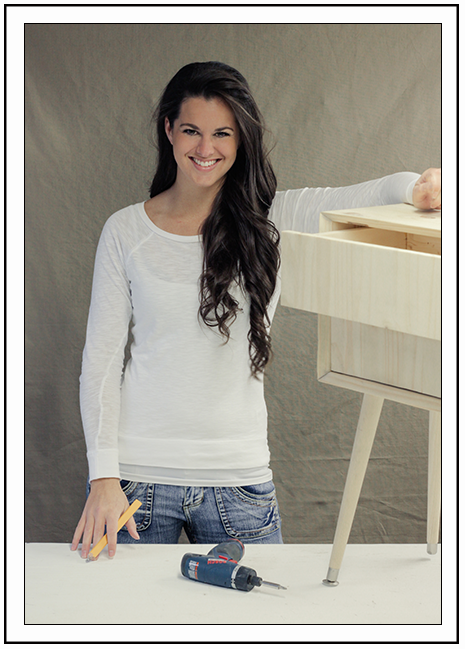 About
Thanks for stopping by Build Basic! I'm Jenn.  Each week I design and build DIY-friendly carpentry projects and share the plans with you.
I'm out to prove that you don't need expensive tools or advanced training to make high-end furniture and accessories from scratch — you just have to know the basics!
Each of my projects cover EVERY STEP from beginning to end with all the instructions, photos, drawings, and measurements you need to ensure your project is a success.
Don't see plans for something you want to build? Have a question about a material or step? Just want to say "Hey"? Click here to send me a message!
Of course, there's also a million and a half decisions made before a project goes live on the homepage–stop by the Blog to see what's in the works.
Talk Soon!
Jenn
About Jenn
Jenn is an instructional writer, builder, project designer, web series producer and host who has worked for industry leaders like This Old House, Fine Homebuilding and About.com. She is the current host of House One, a new brand by This Old House for new homeowners and makers. Her work has been featured on sites such as The Huffington Post, CNN Money, AOL Real Estate, Yahoo Real Estate, Fox News Online Magazine, MSN, and others.

Recent Press and Features

Safety
Build-Basic.com and its authors hold no responsibilities for injuries or damages caused by any attempts to recreate the projects, or follow the tutorials listed on this site. The information, tutorials, images and instructions provided on Build-Basic.com are intended as inspiration only. Any attempt to recreate the projects posted on this site is at the risk of the individual, and the authors of Build-Basic.com cannot be held liable. While the authors of Build-Basic.com work tirelessly to provide accurate and trustworthy content at all times, they, nor the brand, can be held responsible for any injury, monetary loss, or any other issue that occurs as a result of use of the information offered on Build-Basic.com.

Comments
The authors of Build-Basic.com reserve the right to delete or withhold publishing of any comment deemed offensive or seemingly intended as advertising or spam. The author also reserves the right to block a commenter at any time.

Copyright
All content is property of the owner and author of Build-Basic.com unless otherwise noted. The content of Build-Basic.com may not be duplicated or copied in any way without expressed permission by the owner and author of Build-Basic.com. Of course, Build Basic appreciates any discussion of, or linking to, its content, provided that the full name of the site (Build-Basic.com) is noted, a link back to the original content is included, and no more than two instructional images are used at any one time.
The author/owner reserves the right to modify, change, or add to these policies at any time.

Disclosure
This policy is valid from 13 August 2014
This website is written and edited by the authors of Build-Basic.com. For questions about this website, please contact jenn@build-basic.com.
The authors of this website accept forms of cash advertising, sponsorship, paid insertions or other forms of compensation.
The compensation received will never influence the content, topics or posts made in this website. All advertising is in the form of advertisements generated by a third party ad network. Those advertisements will be identified as paid advertisements.
The owner(s) of this website is compensated to provide opinion on products, services, websites and various other topics. Even though the owner(s) of this website receives compensation for posts or advertisements, the owner(s) always give honest opinions, findings, beliefs, or experiences on those topics or products. The views and opinions expressed on this website are purely the authors' own. Any product claim, statistic, quote or other representation about a product or service should be verified with the manufacturer, provider or party in question.
To get your own policy, go to http://www.disclosurepolicy.org