New Series Announcement!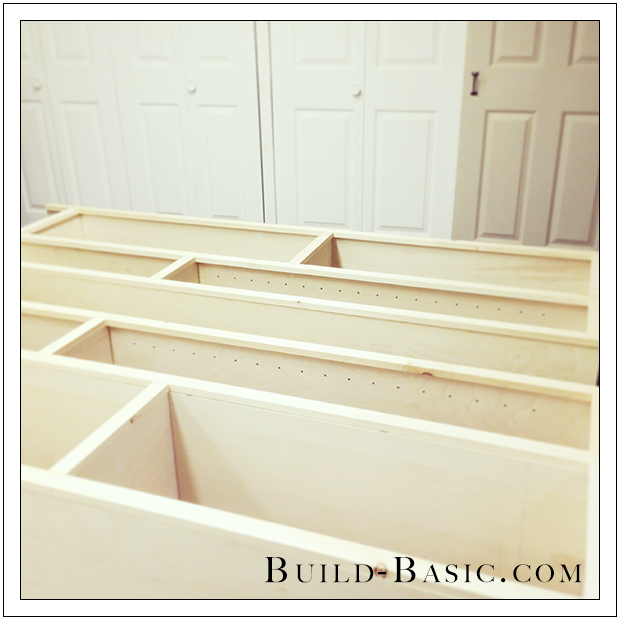 If you all caught this sneak peek on Instagram or Facebook last week, you know I'm working on something big;) Well, today I can FINALLY tell you about our exciting new Series here at Build Basic!
The series is called
The Build Basic Custom Closet System
It's made up a collection of simple DIY projects–each with an easily adjustable cut list–that combine to create a DREAM CLOSET!
My friends at PureBond Hardwood Plywood were nice enough to sponsor the series, so a huge thanks to them for making an awesome product and for making this series possible! If you haven't heard of PureBond, they make formaldehyde-free hardwood plywood that's manufactured here in the US, and sold at my second home…I mean, um, The Home Depot.
You can learn more about PureBond's products HERE.
So Today I'm sharing Part One of the series, along with a handy Closet Planning Worksheet to get you started. The beauty is that you can create one small Cubby, or layout an entire closet full of larger Cubbies. The goal is to take the overwhelming feeling out of a huge build, and break it up into manageable project that can be completed over time.
Also, I should note; if the idea of creating "large" pieces worries you, you should know I designed everything in this system (except the drawers) to be 16-inches-deep, so I could just have my friends at The Home Depot cut each sheet of plywood into manageable 16-inch strips for me to get into my car, and assemble at home. So easy!
Are you as excited as I am? What's next?Well, over the next few weeks, I'll be sharing design ideas and building plans for storage solutions like a tilt-out hamper, hideaway ironing station, and pullout shoe storage, so stop by to check out the progress and to see final reveal of my DREAM CLOSET using only the building plans from this system!
Thanks for Reading!
And don't forget to subscribe below if you want to free building plans and updates on this series in your inbox!