DIY Message Board with Lighting
*This post is sponsored by Ryobi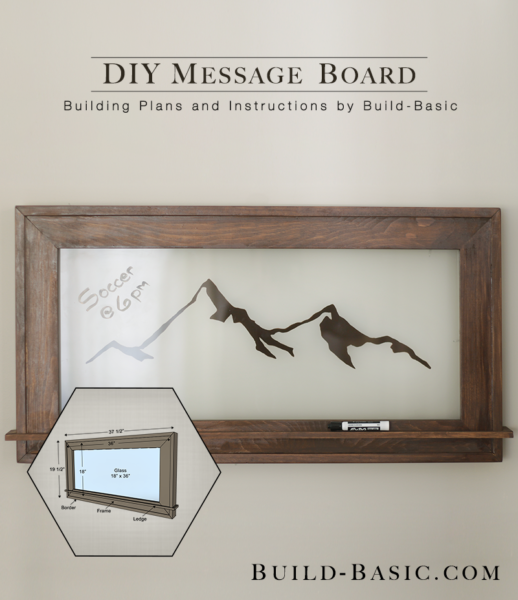 This week I'm teaming up with my friends at RYOBI to bring you an easy, decorative message board tutorial! In my office, it's fair to say my love affair with sticky notes has reached an unhealthy level. I knew I wanted something dry erase, but I just can't handle the look of a corporate white board—to close of a reminder to my cubical days in Manhattan.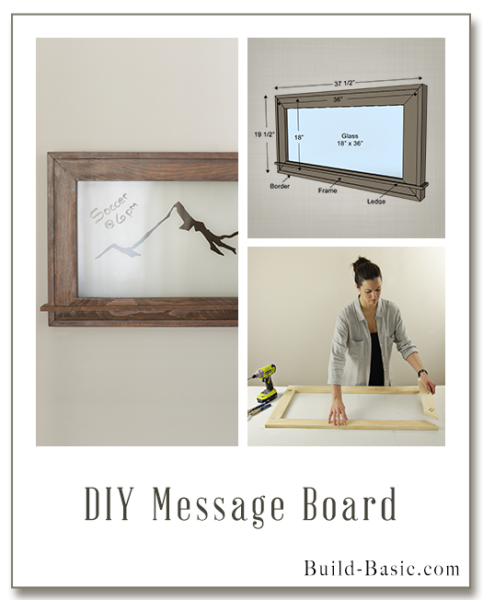 Using glass as an alternative was my first thought, but I wanted to create something that felt like artwork when not in use. I came up with a long, horizontal mountain scene that could be painted on the back of the glass. The outline is simple enough that it doesn't interfere with notes, but gives the space some visual interest. Once the outline was painted, I coated the entire back of the glass with "frosted" spray paint.
Lastly, as part of Ryobi's "lighting challenge", I added lights behind the glass to double the board as ambient lighting or a nightlight. Click HERE to check out the full step-by-step tutorial and photos on Ryobi Nation!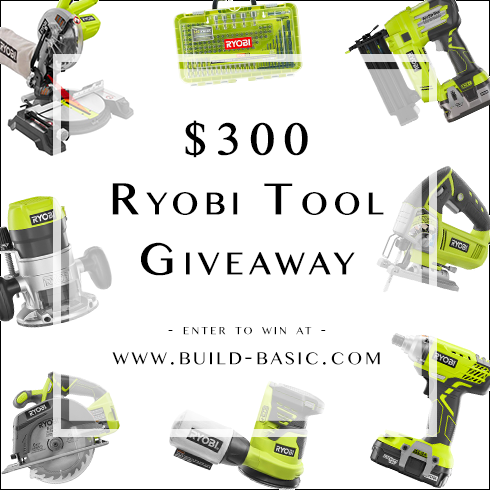 And now, for the GIVEAWAY!!! Enter below for a chance to win $300 in Ryobi Tools! Even better….you get to PICK which tools you want!! Do you need the pneumatic nail gun, a new miter saw, maybe a new sander?
Contest is open to all Build Basic Subscribers! If you're not already a subscriber, you can sign up below to start receiving free building plans in your inbox! Also, it's not mandatory, but I'd secretly LOVE if you shared this post on Facebook!
Lastly, enter by following the Rafflecopter instructions below. To enter, just visit our Facebook page (again, you don't have to "like it", but it'd be cool if you did!). You can receive an extra entry for Tweeting about the contest! (Just be sure to click the "I Visited" and "I Tweeted" on the widget for your action the be counted!) This giveaway is open to residents of the USA, void in Alaska and Hawaii, ages 18 or older. This giveaway is for power tools only. RYOBI outdoor tools, generators and shop vacs not included. The winner will be notified by email, and will have 48 hours to respond to claim the prize. Good Luck!!
WINNER UPDATE
And the winner is….Katherine F. from Saginaw, MI!!! When I emailed Katherine to tell her she won, she was sweet enough to share the words below of excitement and kindness. Thank you Katherine! You are the epitome of why we run contests like this and why I love doing what I do here at Build Basic!
Katherine says, "I have been woodworking since I was quite young. My father taught me a lot about how to handle different tools and the aspects of cutting, building, and finishing projects from wood. Over the years, I have accumulated a few power tools of various brand names but they are a bit mismatched and many have power cords. Winning this prize is awesome! I am so looking forward to having an excellent set of Ryobi tools that are cordless and can handle a variety of projects. Having these tools will definitely make my projects easier to make. Now I can use a number of the plans that Build Basic has offered that I've been wanting to make. I am so grateful to Build Basic for giving me this opportunity. Thank you!"
NOTE: This content is sponsored by RYOBI. All opinions are my own. To see our full disclosure policy, click HERE