DIY Bent Plywood Lap Tray
This post is sponsored by BuildSomething and Kreg, but all opinions are my own. To read my full disclosure policy, click HERE
Today I'm so excited to be teaming up with my friends at BuildSomething to bring you free building plans for this DIY Bent Plywood Lap Tray! If you haven't checked out BuildSomething.com, it's Kreg's DIY project plan site. It is a fantastic resource for free building plans, and has a great community atmosphere where we all can request projects, post our own plans, and share projects! Sounds right up our ally!
For today's project, I wanted to try out some fun applications for Kreg's new tool—the Accu-cut Saw Guide. The saw guide's footplate attaches to a circular saw much like Kreg's Rip Cut, but then sits into grooves on a metal track that can be placed anywhere as a straight-edge guide for the saw. For those of you who have ever checked out pricing on a track saw, you know what a big deal it is to have a quality, affordable option in the game.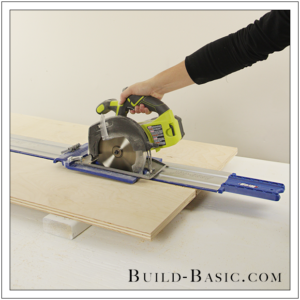 Because the track is so easy place and to align with marks on any piece of wood, I immediately thought of Kerf cutting. Kerf cuts are parallel cuts made close together that don't run all the way through the wood. These cuts create relief gaps that can make a rigid piece of plywood bendable. Fun, right?
For a starter project, I used the Accu-cut Saw Guide and my circular saw to create kerf cuts in a piece of ¾-inch plywood. I then bent the plywood 90-degrees along the kerf cuts to turn the ends of the board into the vertical legs of a tray.
Want to try it out? Click below to head over BuildSomething and get my
More Building Plans